Because of the recent restriction on the naira card, using a Naira debit card for international transactions can be difficult especially if you don't have a dollar card to make your online payment. I recently needed to renew my hosting, but I couldn't because the most I could pay with my Naira card was $20 per month.
A few weeks before when my hosting was to expire, I receive an email from Zenith Bank informing its customers that they will be suspending all international ATM withdrawals, and web and POS transactions on their Naira Mastercard. So I asked some of my online shopping friends for advice on alternative methods of payment for international web transactions and they came up with many various Virtual Dollar card options.
There are many virtual alternative cards to choose from, but here are a few that I considered great.
Disclaimer: The options listed here are only suggestions and do not represent an endorsement of pediatop.com. Please do your research before utilizing any of them.
1. Gotok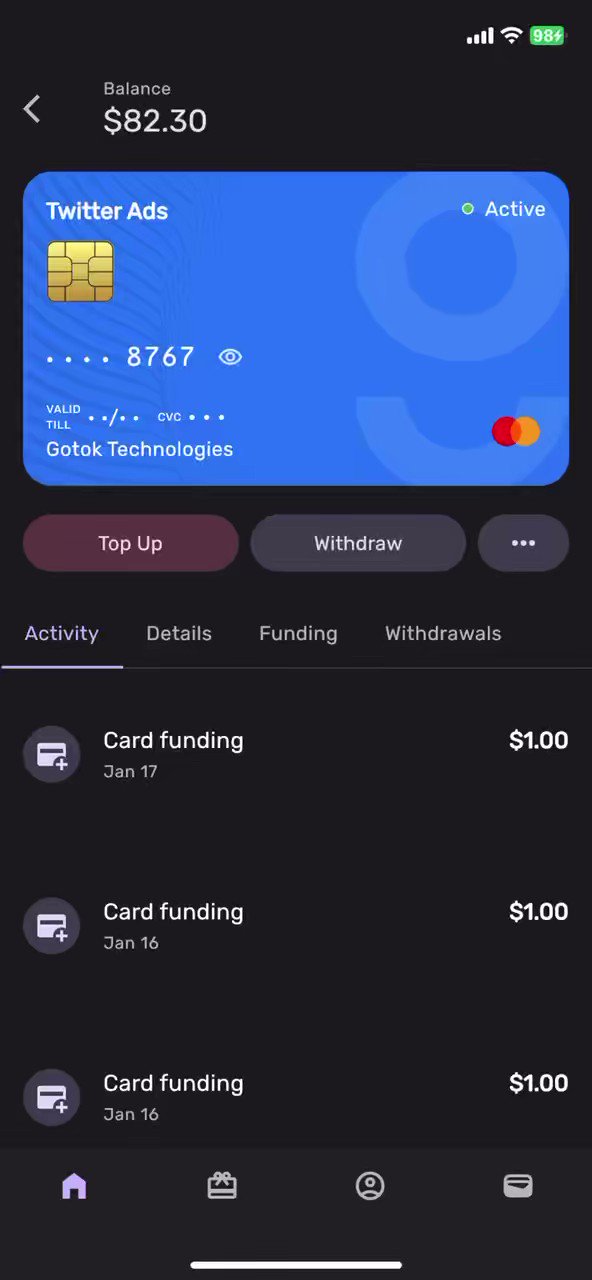 Gotok is one of my favorite virtual payment cards that allow users to make secure online transactions and payments. With the Gotok app, you can shop and pay for any of your bills globally in any country without the fear of getting restricted.
The sweetest part of Gotok is that they don't charge users for obtaining a virtual dollar card, all you have to do is to download the app from the Google play store or register through their web link.
This platform also provides two different types of cards which are Mastercard and Visa card, you select the best that is more suitable to you.
Before using the Gotok cards, you must first fund your Gotok account. To fund your Gotok account, choose one of the payment methods listed, such as Binance Pay or Solana Wallet. That is you must own a cryptocurrency in Solana or BUSD token in order to use this platform effectively. To get started with Gotok click on this link.
2. Chipper Cash
Chipper Cash is a mobile financial services platform that provides P2P (peer-to-peer) money transfer services, enabling users to send and receive money across multiple African countries. Similar to Gotok, Chipper Cash also provides a virtual Visa card for online payment. The only disadvantage of the Chipper Cash card is that it can only be used where Visa cards are accepted, but you can still use it to pay for your flight, Netflix subscription, or online purchases on AliExpress.
Unlike Gotok, Chipper cash provides other financial services such as mobile airtime top-ups, and bill payments like your electricity bills. This platform was created to be simple to use and secure, with the goal of providing affordable and accessible financial services to users in Africa.
3. ALAT
ALAT is Nigeria's first fully digital bank, providing a variety of financial services via its mobile app. ALAT is a subsidiary of Wema Bank. On the ALAT platform, you have a wide range of financial services such as savings accounts, current accounts, investment services, loans, and virtual cards.
With the ALAT virtual card, you can pay for any online transactions, such as shopping or paying bills. The virtual card is linked to your ALAT savings or current account. The virtual card provides an extra layer of security for online transactions, as the customer's actual card information is not shared with merchants. Instead, the virtual card generates a unique card number for each transaction, making it more difficult for fraudsters to steal sensitive information. This sounds interesting, right?
So, if you're looking for a highly secure banking experience, I recommend ALAT. But the verification process is not here.
4. Payday
Payday is a digital FinTech app that allows users to send and receive money from any part of the world. This platform makes it easy for individuals living in Africa to receive funds from any part of the world and also provides a one-stop shop for all your financial needs.
Payday users can also request a dollar virtual card to help with all digital transactions and make online payments from the comfort of their own homes.
Getting the dollar card is 100% free, but users must first verify their Payday account using their BVN and taking a selfie.
5. Changera
This platform allows users to make international money transfers to people around the world in a very fast and secure way. Changera is a product of Bitmama Inc, a crypto company that offers crypto payment solutions to African and global users.
Changera is built on a blockchain network that allows users to send and receive money globally and securely through its iOS and Android platform. Just like the rest companies I have listed on this page, Changeraalso has a virtual card that allows users to shop globally, Virtual cards and the creation of wallets are free of charge. But creating a virtual bank account is only available for premium users.
Disclaimer: The options listed here are only suggestions and do not represent an endorsement of pediatop.com. Please do your research before utilizing any of them.